Long-term Vision
Vision ― Aim after 10 years ―
A creative company delivering exciting experiences
from Happinet to the world by unlocking entertainment potential
We unlock entertainment potential to bring a wide range of delights to people, creating dreams for a better future. In this way, we will deliver from Happinet to the world new entertainment styles—ways of enjoyment and lifestyles—that transcend the boundaries between different industries and distribution channels.
9th Mid-term Management Plan
(FY2022–FY2024)
Themes ― Mid-term Vision ―
― Creative Growth Driven by Dual Engines ―
Creative growth driven by dual engines: Entertainment business and platform business
Under the 9th Mid-Term Management Plan, we will work for creative growth driven by two core engines—the entertainment business (service and content creation) and the platform business (service and content delivery).
We will generate synergies to increase our business value by leveraging our strength in intermediate distribution while further strengthening our creative functions.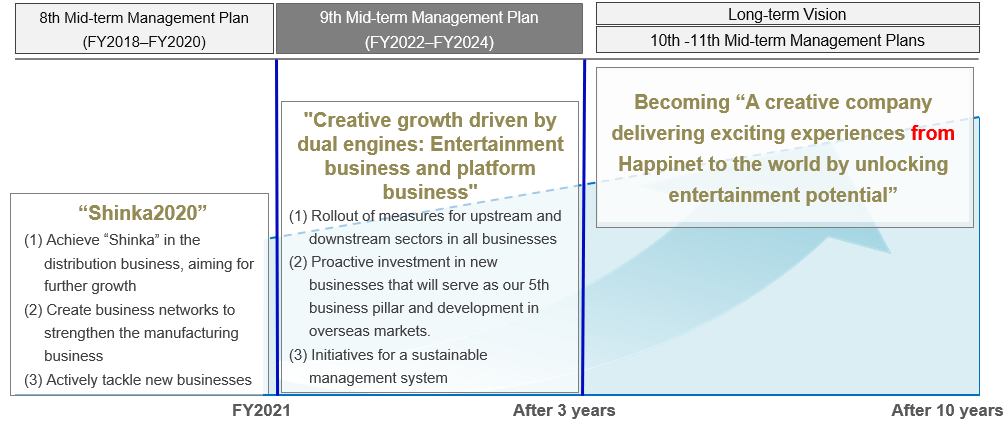 Values
Values ― Values required to realize Vision ―
― Three C energies : Creation, Challenge and Capability ―
Three energies to support the delivery of exciting experiences to the world
Creation +  Challenge + Capability
We have designated these as the shared values for the realization of our medium- to long-term vision and defined them as follows:
Creation: Commitment to creating businesses, products, content, and services
Challenge: Commitment to making decisions and taking action from an independent perspective
Capability: Commitment to generating synergies through concerted teamwork across the Group
By practicing these three values, we will realize our vision as a creative company delivering exciting experiences from Happinet to the world.
9th Mid-Term Management Plan
Corporate Main Strategy
Corporate Main Strategy
Main Strategy 1
Rollout of measures for upstream and downstream sectors in all businesses
Create services focused on experiential value from a consumer perspective and create content through strengthening of creative functions
Main Strategy 2
Proactive investment in new businesses that will serve as our 5th business pillar and development in overseas markets
Invest in new businesses and develop business creation system able to continuously generate ideas
Identify growth potential in overseas markets and engage in promising fields
Main Strategy 3
Initiatives for a sustainable management system
Develop operational management system and business and human resources portfolio management system from a sustainable perspective
Mid-term numerical plan
Final year of the 9th Mid-term Management Plan(FY2024)
Net sales: 280.0 billion yen Ordinary profit: 6.5 billion yen