A Major Intermediate Distributor
Supporting the Toy Industry
As the largest intermediate distributor in the Japanese toy industry, Happinet supplies an incredible range of toys from a wide variety of manufacturers. Through its robust distribution system and ability to offer compelling and effective proposals, Happinet responds adroitly to the diverse needs of its business partners.
Characteristics of the Toy Business
The toy business is unique in many ways. Even standard products rarely sustain that position for long. Many products are closely linked to animated characters seen on TV; when those series come to an end, related toys lose popularity and must be replaced as well. Because toys are products that children hold in their hands, they are subject to the most rigorous quality control and inspection processes; it takes more than three months from the start of production to display on store shelves. As an intermediate distributor in such a business environment, standing between manufacturers and retailers, Happinet works hard to provide its business partners with timely information and maintain appropriate inventories.
In this way, we furnish retailers with the environment they need to support brisk sales.
The Happinet Group's Advantages
With 30% Market Share, Happinet is the Largest Intermediate Distributor in the Japanese Toy Industry
Happinet got its start as a distributor for BANDAI CO., LTD. Later, wielding the advantage of its optimal distribution system, Happinet expanded operations to embrace a wide variety of business partners, and it is now handling a diverse range of products from manufacturers both in Japan and overseas.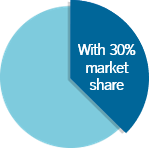 Efficient Product Supply
Happinet delivers products to a wide range of retailers throughout Japan, ranging from specialty toy stores and bulk retailers to convenience stores, and e-commerce companies.
By gathering products from a wide range of manufacturers and supplying them to retailers, Happinet reduces costs and raises efficiency by restraining distribution costs, benefiting both manufacturers and retailers.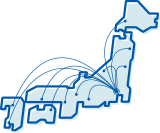 Planning and Development of Original Products
In addition to its duties as an intermediate distributor, Happinet plans and develops original products, focusing on products that are perennial strong-sellers. By producing its own line of compelling products, Happinet maintains a stable revenue base.