We are Strengthening Sales Support
to Build the Largest Sales Network in the Industry
As an intermediate distributor of DVDs, Blu-rays, and CDs, Happinet boasts the largest sales network in the industry.
In addition to handling intermediate distribution, Happinet is actively engaged in the planning, production, distribution, and promotion
of video works such as films and animated TV features as well as the planning and production of music content.
Characteristics of the Visual & Music Business
The visual and music industry is one in which perennial favorites can sell well for many years. Advantage accrues to distributors that boast a large library of titles. To respond to the needs of a diverse range of consumers, we support the creation of an attractive selling environment, by applying market intelligence from a wide range of manufacturers.
The Happinet Group's Advantages
The Largest Market Share as an Intermediate Distributor in the Visual & Music Industry
As an intermediate distributor of visual and music software, Happinet has built its reputation creating attractive selling environments that support the diverse needs of consumers. Happinet has built the largest sales network in the industry.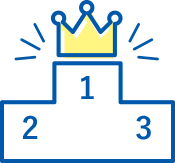 Outstanding Efficiency
Happinet uses Web tools to integrate information on new releases, shipping and receiving information, sales-promotion information and other market intelligence, to construct highly efficient operations.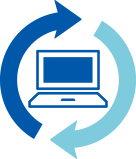 In-house Creation of Outstanding Products
By planning, producing, distributing, and promoting its own films and animated features, Happinet participates not only as an intermediate distributor but also as a producer. Our superb production capability enables us to release a steady stream of high-quality products.