Happinet's Business Areas
Happinet is a comprehensive entertainment trading company with top market share in all four fields of toys, Visual & Music, video games, and amusement. Because of our company's information capabilities and our own logistics system strengths, we bring out the advantages of each manufacturer and retailer.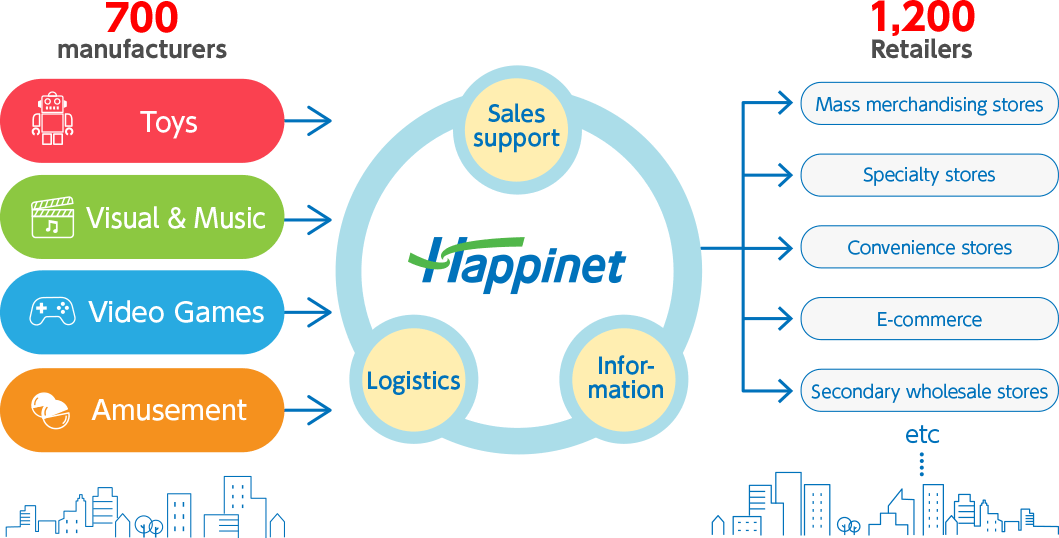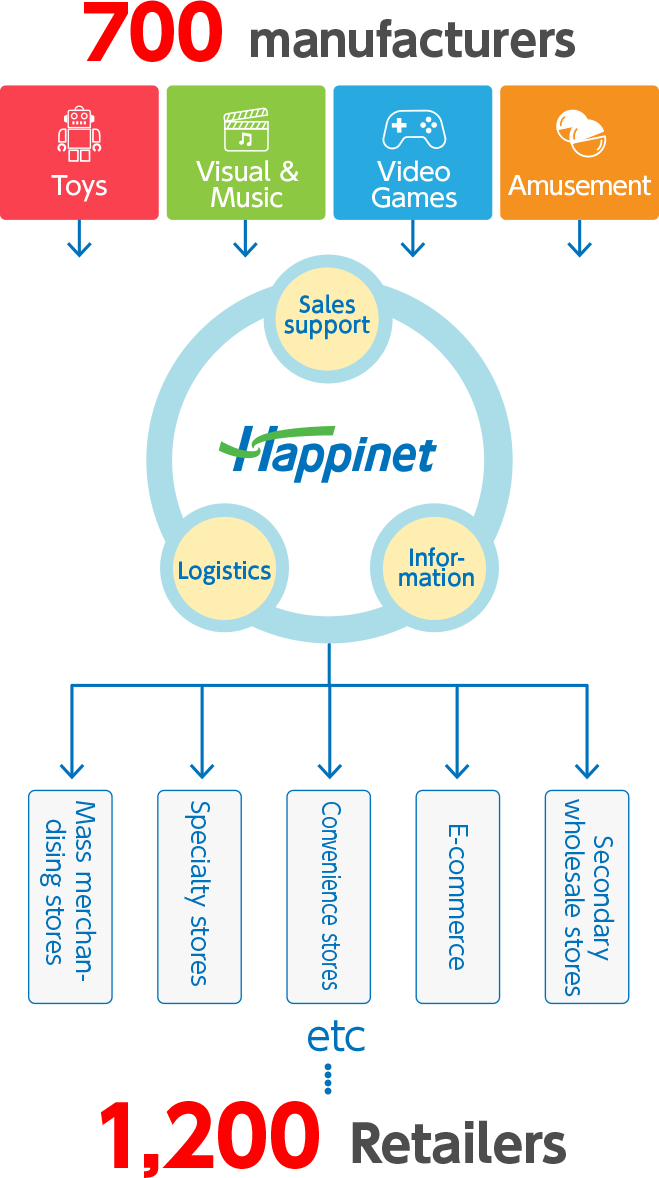 We purchase various items
The optimal "product" at the optimum "date and time."
Based on information from manufacturers and retailers that we knew only because we are an intermediate distribution business, we capture the sales situation of products that change day by day and secure and supply inventory so as not to miss sales opportunities. While making full use of industry-leading logistics systems, we deliver timely shipping works with high precision and deliver products to shops nationwide.
We sell to various channels
The optimal "information" with optimal "timing."
Based on the information that we capture by making full use of the industry's top sales support system, we examine the selling points of products and consider sales methods that respond to different needs for retailers and their stores. We plan elements such as the display method and sales growth method of products and realize proposals at the optimal timing.
The core of each business is our "optimized distribution system" that connects manufacturers and retailers

Together with Manufacturers
We Enable Predictable Sales

We predict sales based on information fed back from retailers and provide reference data for deciding production quantities.

We obtain sales and consumer information

We provide up-to-date information useful for product development including sales data and consumer needs.

Information supply in real time

We reflect the information on shipment quantity and stock quantity when placing an order in real time and share it with manufacturers.
Together with retailers
Proposals to create sales floors that utilize the characteristics of stores

We plan and propose sales floors, promotions, and events, etc. making full use of the characteristics of each store.

Product supply to catch every opportunity

We keep an appropriate amount of stock and deliver products from our industry leading logistics centers.

Product orders that consider sales conditions

Our sales staff manage the different sales situations of each store. We accept orders while adjusting the schedule and quantity.

Collection of market information

We collect and analyze what and how much has been sold, what consumers are asking for, and the changing market conditions on a daily basis.