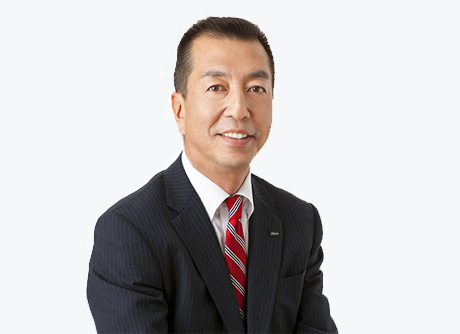 We will keep contributing to efforts to build a future full of dreams, bringing together the willingness of all our directors and employees to take on challenges.Representative Director and Chief Operating OfficerSeiichi Enomoto
The Happinet Group's Vision and CSR
Happinet Corporation and its consolidated subsidiaries (the "Happinet Group") undertake their businesses based on the following statement adopted as their Group vision: "We will further develop Happiness Networking, inspire individuals by creating Entertainment Style, and build a future full of dreams."
This Group vision embodies our wish to spiritually enrich people through entertainment businesses that touch their hearts and to make our presence felt as a corporate group that is able to generate a social value called a future full of dreams. The practice of the Group vision is our basic approach to the CSR principle.
The expression "Happiness Networking" in our Group vision expresses our basic stance of constant and active communication (networking) with stakeholders to make timely proposals with added value that can make a significant contribution to people's blissful lives (happiness).
Business conditions for the Group have undergone dizzying changes in recent years. We consider the greater display of management flexibility and mobility to be an urgent business in view of entertainment market conditions, which remain severe. To achieve this result, all our directors and employees will return to the original Happinet stance on CSR, ask again what roles and responsibilities Happinet Corporation (the "Company") should perform, and take on the challenge of realizing a new growth stage, bringing together their can-do spirit, in addition to working to strengthen corporate governance.
Act While Constantly Considering What Is Important and What Is Right
The Happinet Group has an action policy that states: "Act While Constantly Considering What Is Important and What Is Right" This action policy acts as a criterion for judgment when our directors and employees face a conflict of interest in the course of their business execution. Furthermore, we take various initiatives based on the action policy to fulfill three types of responsibilities: legal and ethical responsibilities, financial responsibilities and environmental and social responsibilities.
Three Responsibilities That Happinet Upholds
The three items below explain the stance of our company in relation to CSR.
1. Legal and Ethical Responsibilities
The Happinet Group adopts "values set on faith and trust," "efforts to coexist with stakeholders" and "awareness as a good member of the society" as three ethical viewpoints that correspond to "what is right" in its action policy.
To practice these viewpoints, the Group has established the Code of Ethics, the Internal Control System, the Happinet Group Compliance Program (a whistleblower system), and the Ten Action Guidelines.
In addition to these systems and rules, the Happinet Group has established an Ethics Review Committee to cross-sectionally control measures for ensuring thorough compliance with corporate ethics and laws. Furthermore, the Group has established the Compliance Promotion Office, which is independent from the business divisions, to establish and enforce internal control and compliance committees within and outside itself. In this way, the Group has introduced a system for monitoring both management and operations.
2. Financial Responsibility
The Happinet Group consists of stakeholders. For that reason, we believe that we should return the added value generated through our operations to stakeholders in an appropriate manner.
"Reasonable profits" made through "goods" and "services" sold to customers, "Satisfaction" given to consumers, "Compensation," "education" and "welfare" extended to employees, "Tax payment" and "employment" provided to society, and "Dividends," "share prices improved to and kept at appropriate levels" and "special benefit plan" supplied to shareholders.
All these returns to stakeholders become possible for the first time when added value is maximized through sustained growth. The Group will carefully monitor management plans and conditions and make optimum decisions for corporate growth and development from a strategic and long-term perspective, in addition to sustaining efforts to enhance the transparency of its business administration.
3. Environmental and Social Responsibility
The Happinet Group delivers an enormous variety of goods developed and produced by manufacturers to retail stores rapidly and accurately. Through this operation, the Group assumes an important role and a substantial responsibility to support the affluent lifestyles of consumers. The Group also views support for CSR initiatives taken by manufacturers and retailers as its important role as intermediate distributors.
As pro-environment actions for performing this role, the Group is undertaking initiatives including those for lowering delivery frequencies through delivery error ratio minimization, reducing energy consumption and using recyclable cushioning. The Group will continue making voluntary contributions to these activities for curbing global warming and effectively using resources that have direct links with its businesses.
Moreover, as initiatives regarding product quality, the Happinet Group asks a committee of officials responsible for quality to continuously discuss the revisions of strict standards that it has set voluntarily to enable customers to use its products with peace of mind, in addition to complying with laws and industry standards.
For Building a Future Full of Dreams, and Sustaining Corporate Growth and Development
I assumed the position of Representative Director and Chief Operating Officer of Happinet Corporation on June 23, 2016. My mission as the topmost manager is to sustain the growth and development of the Happinet Group based on the Group vision for "contributing to the achievement of people's happiness" by harnessing the Group's business foundations without neglecting efforts to foresee environmental changes. I will make my contributions to efforts to build a future full of dreams, listening to the opinions of our stakeholders at all times and bringing together the willingness of all our directors and employees to take on challenges. I would like to ask all our stakeholders for their continued support in the period ahead.